22 Jun 2006
Victor Dominguez Richards, a co-founder and current strategy and standardization director of the Spain-headquartered chip-design startup Design of Systems on Silicon (DS2) SA, always looks confident when he tells the story of how a small company like his can dominate the industry standards for chipsets that enable communications over electrical lines in home networking applications.
By KEN LIU, CENS
Article Source: news.cens.com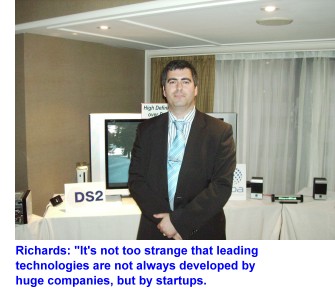 "We have opened the standard to all suppliers free of charge," says Richards, whose company was established in 1998 to focus on powerline-communications technology. The company, with an annual revenue averaging 10 million euros, introduced a chip capable of transmitting data at 200 megabits per second (Mbps) in early 2004, around three years after introducing its 45Mbps product. Both figures represent the industry's leading technologies and remain unrivaled in the competitive field.
The 200Mpbs chip, according to Richards, provides the perfect solution for the "triple play" service of providing simultaneous high-definition television, Internet access, and voice communication via the Internet Protocol while maintaining the highest quality. Working with the company's unique wall-plug adapter, a network device installed with the 200Mpbs chip can deliver high-speed broadband access to every room in a house without the need to run new cables.
The Open PLC European Research Alliance backed by the E.U. has selected DS2's technology as the baseline for its approved open global specification for powerline communications (PLC) access. The specification, which is claimed to be the first of its kind, has the support of the Universal Powerline Association, a group that includes a number of broadband over powerline equipment suppliers.
DS2's technology has caught the attention of big chipmakers like TI, Intel, and AMD and has been used and evaluated by telecom carriers in many countries. Samsung has worked with the Spanish company on digital home networking applications.
Richards concedes that he does not know exactly how big the world PLC market is, but he is pretty sure that growing opportunities for PLC are coming from telecom operators. His company has sold 200 million PLC chips worldwide to product suppliers, which supply their products to telecom operators and retailers.
This year, DS2 demonstrated its products for the first time at the Computex Taipei information-technology trade show, which was held from June 6 to 10. Richards stresses that his company's presence at the world's top-three IT show displays its eagerness to boost its share of the Asian market, which he says is much more promising than the European market.
In an interview with CENS staff reporter Ken Liu, Richards offered a complete picture of his company's success story. The following are excerpts from this discussion.
Q: Spain is not well known for its chip industry. So, how can DS2 become the industry leader for powerline chipsets?
A: It's easy to understand and not so out of the ordinary. Look at DSL. The company behind DSL technology initially was a small company called MRT. They did the technology. And when everything was clear, the technology was working and the business case was clear, then the big players came in after TI bought MRT. Look at Wi-Fi. Small companies developed and demonstrated the technology. Then big companies came in and bought them to do something similar. In the powerline chipset market, DS2 is a startup, set up in 1998 to do the technology and demonstrate what can be done. Maybe there is a little difference. We're not going to be acquired. We don't want that. We're a company that wants to grow and sustain leadership in the market and standardize it.
It's not so strange that leading technologies are not always developed by huge companies, but by startups. They take risk and do it, and others follow. So, now you can see companies like AMD, Intel, and TI starting to look at this.
There are not a lot of companies doing microelectronics in Spain. So, we're well positioned there. But, you have to understand that we have offices in Tokyo and the U.S. as well. A big percentage of our people are not Spanish. So, we are a very international company. Yes, we're headquartered in Spain. But, we're very open minded and we're a very international European company.
A large percentage of DS2's staff is engaged in R&D. Our competitive advantage is our 130 R&D engineers in such segments as digital and analog frameworks. And we have people from all over the world. They came to DS2 because we're the leading powerline-technology supplier.
Q: Why is your company the leader in the powerline chip market? What's your company's advantage?
A: It's quite simple. We develop technology that has higher performance at lower costs. We are first to market the technology that everybody will need. So, we're ready. For example, we rolled out 45Mbps technology five years ago so that you could do a lot of good applications. Nobody was even close to that. Nobody was even competing really. Then we came out with a second-generation - 200Mbps - chip because we knew high-definition TV was coming and people wanted to do high-speed Internet and voice over IP. All these applications require high-speed performance, and we're not stopping.
You may hear other companies say they want to develop a 200Mpbs powerline too. Ask yourself. Why do they want to do 200Mpbs, and not 250Mpbs or 280Mbps? Because DS2 has demonstrated with real silicon that you can do 200Mpbs, and that we are selling such capability on the market. That's what being a leader means. We're the leader because we develop good technology first, and better, and all the others follow.
Q: Why did you organize the company?
A: We have a strong background in microelectronics like telecommunications. We were working at different companies and we all wanted to do something for ourselves, not for somebody else. We knew each other for a long time and suddenly decided to come together and do it. We opened the company back in the year 1998, when we identified 25[Mbps] powerline networking as very promising technology in the market. So, we started with microelectronics powerline technology.
Q: How did DS2's technology gain ground in the PLC market?
A: Many telecom operators now offer "triple-play" services. But they had problems in connecting ADSL gateways to set-top boxes. Those two are not close together. So, they had to throw a long Ethernet cable and a long telephone cable inside houses of their customers. A lot of customers did not want that and a lot of operators told us 30 to 40% of their customers don't want their services because they don't want to see more cables. Then operators began evaluating possible solutions such as wireless. But wireless was not good enough to guarantee good video streaming without any failure. Then they evaluated our technology and that was the solution. Our technology could connect ADSL with a set-top box in a reliable way because it always works and you can always see the TV, no matter where the ADSL gateway is or where set-top box is. Operators including Belgacom of Belgium, Telecom Italia and telecoms in Asia and the U.S. are using and evaluating our technology. Because they need it. Also, KDDI of Japan and many other Asian operators are evaluating how to use our technology to distribute video signal to their customers. There's also lot of interest coming from Taiwan. So, I think we'll soon see our technology commercially available here.
Q: Will your company open office in Taiwan or enter into alliances with Taiwanese suppliers?
A: We already have a representative in Taiwan and own a stake in it. We are also seeking to have local staff in Taiwan. In our strategy for expansion in Asia, Taiwan is a very important market because we have so many customers and customers' customers in Asia.
Q: Mainland China is a rising economy. Will your company go there?
A: Actually, we already have a number of customers in China and are working with both some networking technology and electricity companies to provide Internet access to strategic alliance partners. We've been working with Shanghai and other municipalities to evaluate the possibility using our technology. China is a promising market. We are there and we're ready for opportunities to come for our solution.
Q: Are you expecting the company to grow over the next few years? At what rate?
A: Both the U.S. and China have huge growth rates compared to Europe. That's why we are expanding our offices in the U.S. and Asia so much, not so much in Europe. India is also an important market for us. Already some of our customers are in India are evaluating real and huge opportunities.
Q: What's your company's strategy?
A: Our strategy is to continue focusing on powerline communications and continue being the leader of all powerline markets, in homes, in buildings, and for general access. Also, we will continue to standardize the technology, to set the standard, to be open, and to be the technology of choice worldwide in powerline communications.
Q: Has any Taiwanese company contacted your company?
A: Yes. And more than we expected. But, we prefer to work with a selected number with which we have good relationship. If 20 or 30 companies are knocking our door, it is impossible for us to give them good support and engineering. So, we prefer to work with five to 10 well-selected companies that have good products to develop the market.
Q: Who is your company's major competitor?
A: For home networking, wireless is. Wireless [IEEE802.11g/e/n] is doing better and better every day, but it cannot do this application. We are unique [in home networking]. But we have to recognize that we have to compete with the wireless guys. Still, our relation with wireless is synergistic, not just competitive. We provide a good backbone for wireless. Wireless does not give you full home coverage. But we do. See how wireless wires rooms? It connects rooms through powerline communications.
Filed: Jun 2006, Interviews, Powerline Networking, Co: DS2, OPERA, TI, UPA, Tech: OPERA 200 Mbps