Industrial-Strength High-Performance PLC Becomes Cost-Effective For Industrial And Commercial Applications With 32-bit DSP-Based Controllers
6 Dec 2005
HOUSTON (December 6, 2005) - Bringing reliable high data throughput to networked industrial, utility, and commercial control and monitoring, Adaptive Networks has announced the development of a new family of powerline communications (PLC) products enabled by Texas Instruments (TI) TMS320F28x™ digital signal controllers.
The new PowerConnect™ series of PLC solutions provides robust network communications through powerlines over distances up to 50 kilometers, for outstanding performance in a variety of control and monitoring applications in industrial and other rugged environments, including utility metering. PowerConnect solutions leverage the real-time performance and cost-efficiency of TI's F28x™ controllers, making the benefits of reliable high-speed PLC affordable to a much wider range of applications than those supported by competing products. Based on TI's digital signal processor (DSP) technology, F28x controllers offer a unique combination of 150 MIPS of 32-bit control-optimized performance, system integration and microcontroller- (MCU) like ease-of-use.
For more information on TI's PLC solutions, please see www.ti.com/c2000plc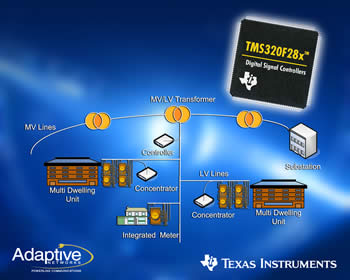 Unlike conventional wired data networks that use dedicated transmission lines, Adaptive Networks' PLC networks use F28x controller-enabled PowerConnect products to transmit and receive data via existing low-, medium-,and high-voltage powerlines. This innovative, single chip PLC technology offers reliable throughput of 19.2 kilobits per second (kbps) to full-scale networks over a wide area in harsh environments and makes it possible to monitor and control all nodes within a network. In factories, utility distribution systems, office complexes, mines, subsea cabling, and other rugged settings, PowerConnect's high transmission rate for robust real-time communications over existing powerline infrastructure eliminates the need to deploy additional wiring for control and monitoring. F28x controllers offer the performance flexibility that, in many cases, will allow PowerConnect system developers to integrate the application on the same hardware platform as the communications. For example, the Power Connect PLC functions could be combined with electronic utility metering, or lighting ballast control for an office building, and integrated onto one F28x controller.
Adaptive Networks is a leader in powerline communications technology, with more than twenty years of PLC research, development and manufacturing. Adaptive Networks' PLC products are currently used for material handling on factory floors, utility control, monitoring, and metering, shipboard communications, mining, and long distance subsea cabling for oil and gas production, among many applications. PowerConnect solutions extend Adaptive Networks field-proven Pro-Line™ technology, an ISO standard for refrigerated container monitoring on ships and an IEC standard for automated meter reading, to a cost-effective solution for high volume applications such as utility meter reading and lighting control. New PowerConnect solutions are designed to extend Adaptive Networks' groundbreaking PLC technology to new application areas, as well as more widely within existing areas. For instance, in certain applications PowerConnect products can be used in networks over distances of several kilometers; new solutions targeting utilities will support networks over even greater distances. The types of systems that will benefit in the future include utility metering, lighting and motor control, shipping climate control, point-of-sale, wide-area control and monitoring of embedded applications, and heating, ventilation and air conditioning (HVAC). For more information on Adaptive Networks, see www.adaptivenetworks.com.
First Solution Now Available
The first of the new family of PowerConnect products, the AN192DPL™ – available now – is based on TI's TMS320F2810 controller and operates with a data communications rate of 19.2 kbps. Different versions of the family of PowerConnect products provide design flexibility by handling different carrier frequencies in the sub-500KHz frequency range, thus satisfying automated meter reading (AMR) requirements worldwide. Adaptive Networks plans to extend its digital signal controller-based technology to its other Pro-Line products that operate with different data rates up to 100 kbps, allowing developers to choose for their systems the level of throughput performance that matches the available frequency allocation and requirements of their markets.
"The new DSP controller-based PowerConnect product line will bring our customers greater flexibility, high-volume price points, and the ability to integrate their applications along with our field-tested PLC technology," said Michael Propp, president and founder. "With its high performance and ease of development, TI's F2810 controller enables us to address a new range of control and monitoring, and metering applications at the right price point."
Extending PLC Technology Through DSP-Based Control
Adoption of TI's F28x controller platform provides a cost-effective means to extend Adaptive Networks' PLC technology to new applications through high-volume manufacturing. Along with advanced DSP cores, the controllers integrate robust peripherals such as analog-to-digital converters (ADCs), timers and pulse-width-modulation (PWM). This high level of system integration simplifies design and keeps control systems compact and cost-efficient. MCU-like instructions and on-chip flash memory enables rapid prototyping for fast time to market.
"PowerConnect PLC products from Adaptive Networks illustrate the value of combining 32-bit digital signal processing with the design flexibility of an MCU," said Andrew Soukup, TMS320C2000™ world-wide marketing manager, TI. "F28x controllers offer leading control-optimized signal processing performance and system-level integration at an affordable price."
Pricing and Availability
The 19.2 kbps throughput AN192DPL is now available from Adaptive Networks, as a ROM-coded chip, module, and as licensable software for high-volume production. A reference design is also available to help simplify system development. Developer products based on the reference design and manufactured in quantities over 100K units are expected to have a bill of materials per unit of less than $10.00. For more information, see www.adaptivenetworks.com
TI Enables Innovation with Broad Range of Controllers
From ultra-low-power MCUs based on the MSP430 platform, to 32-bit general-purpose ARM7-based MCUs from the TMS470 platform, to the high-performance TMS320C2000™ DSP platform of digital signal controllers, TI offers designers the broadest range of embedded control solutions. Designers can also accelerate their design time to market by tapping into TI's complete software and hardware tools, extensive third-party offerings and technical support. For more inforation on the broad range of TI's controllers, see www.ti.com/mcu