1 Mar 2005
Sunnyvale, CA - March 1, 2005 - Maxim Integrated Products (NASDAQ: MXIM) introduces a two-chip, powerline networking solution comprised of the MAX2986, a highly integrated PHY/MAC digital transceiver, and the MAX2980 an analog front-end.
Maxim's powerline networking chipset is completely flexible and cost-effective. Extensive programmability and access to the MAC Application Programming Interface (API) ensures that one hardware design can meet any of the industry's disparate regulations with minor software modifications. Maxim's highly integrated approach and system-level orientation translate into reduced overall cost and improved time-to-market for our customers.
The Historical Problem for Powerline Networks
"Powerline networking devices were developed decades ago but remained on the sidelines due to problems with Quality of Service (QoS), low data rates, range limitations, interoperability, and high cost," Michael Navid, Business Manager for powerline products, began. All that changed in the last few years. "New advances in ASIC design, use of sophisticated signal-processing techniques, and recent standardization efforts have allowed engineers to overcome those problems," Navid continued.
The Powerline Solution
Maxim's powerline communication chipset with its integrated, programmable technology delivers a secure and robust, high-speed data network using the existing powerline infrastructure. Practically any electronic device connected to an electrical powerline can use this technology for data communication without additional wiring. The chipset's open architecture, extensive programmability, small front-end, and high integration permit optimum performance in applications and markets such as home networking (LAN), delivery of broadband (last-mile-access), multimedia, audio, voice, home automation, building and industrial automation (monitoring and control), safety, and security.
Programmability and Access to the MAC API Provide Unmatched Flexibility in the MAX2986
The MAX2986 digital transceiver uses Maxim's advanced OFDM powerline engine with adaptive data rates up to 14Mbps. "Maxim's powerline chipset is the only solution in the market that provides access to the MAC API. This feature enables a client application to run along side the powerline MAC on the same processor and communicates with the internal MAC functions," Navid explained. This API feature can potentially save customers an external microcontroller and thereby reduce BOM costs further. The API also provides access to the MAC Ethernet/MII/USB/UART drivers, interrupt vectors, GPIOs, and powerline modem PHY to modify spectral shaping and tone notching to help conform to local regulatory regimes.
A 56-bit DES encryption scheme with key management is provided for the highest security in data transmission. In addition, the MAX2986 offers on-chip support for USB, Ethernet, and MII/rMII/FIFO host interfaces to meet today's data-rich applications.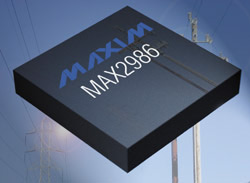 Highly Integrated MAX2980 Enables Broad-Based Usage
Maxim's highly integrated MAX2980 analog front-end and line-driver device includes an ADC, DAC, filters, and line driver. The MAX2980 is interoperable with any third-party PHY/MAC products. With the lowest external-component count, the MAX2980 offers the lowest overall cost and the smallest front-end footprint in the industry.
The Advantages of the Powerline Chipset
Powerline networking provides three major advantages over traditional networking technologies.
"First, as in wireless networking, a powerline network requires no new cables or special wiring," Navid said. Any building that has normal electrical service is already wired for powerline networking. There is no need to snake cables through walls or under floors, and no need for drilling or other structural work.
Second, once the network signal is transmitted at any point into a wiring system, the network can be accessed from anywhere on the same electrical system. This means you can move from room to room or floor to floor in a building, and still access the powerline network from any ordinary wall socket. "In fact, because electrical wires carry signals very well, a powerline node actually can have greater range than a wireless access point," Navid continued to explain. A powerline node also avoids many of the problems of wireless signal loss caused by thick walls or other obstructions.
"Third, powerline networking is more secure than wireless networking. Unlike wireless networking, a powerline network's data signal remains confined to the physical wires," Navid concluded. It does not broadcast into the surrounding spaces. This means that a potential electronic eavesdropper cannot drive by on the street and hack a powerline network.
Pricing and Availability
"Maxim is pleased to bring this very practical new powerline solution to the marketplace. With all its integrated capabilities, we know this chipset will save designers considerable time and cost," Navid summarized. The MAX2980 and MAX2986 are packaged in 64-pin LQFP and 144-pin BGA, respectively. Prices for the chipset start at $14.00 (100-up, FOB USA). An evaluation kit and samples are now available.