2 Sep 2004
Taipei, Taiwan, September 2, 2004 - Delivering video and audio entertainment over the network is becoming the main focus of product development as well as end-users. The current market HomePlug powerline products are mostly compliant with HomePlug 1.0 standard. As shown, powerline technology can offset the disadvantages of Wi-Fi compliant products. For now, the powerline transmitting data rate is up to 14Mpbs. By the first quarter of 2004, HomePlug AV standard will be released and the transmitting data rate will be up to 200Mpbs. This will become another mainstream in the area of home entertainment network.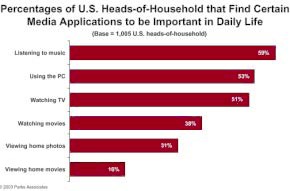 Amigo is proposing a concept based on audio network. The main features include MP3, WMA, and WAV control and playback on a standard audio system. It optimized for any content service DRM scheme. As well, Amigo is looking at a remote control with LCD display in touch mode. This will help users to play whatever songs he or she would like to just simply touch the LCD panel. The diagram shows the percentage of U.S. Heads-of-Household that finds certain media applications to be important in daily life. (Sourced from Parks Associates 2003).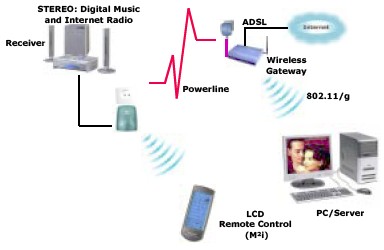 It takes about 59% of people who take listening to music as one of the "most important" thing in their daily life. With user-friendly LCD display, users can make personalized audio a reality. In addition, the media networking driving home networking chip to approximately $2.3 billion according to In-stat/MDR. Ethernet, new wireless networking standards such as 802.11n, and new media backbone technologies like MoCA and HomePlug AV center and media hub designs hitting the market in the next few years. Entertainment servers in the home will also drive the demand for network-oriented media processing engines, which In-Stat/MDR believes will be a $700 million market by 2008. The right diagram is the application realization using in audio networking.
Filed: Sep 2004, Powerline Networking, Press, Co: Amigo, HomePlug, Tech: None