Powerline Communications
PowerLine Trials: Stanley Road
Following the success at Seymour Park, a more comprehensive trial was initiated at the Stanley Road electricity substation, also located in Manchester. The crux of this trial was to test the limits of PowerLine technology and make sure that it could meet industry standards even in worst case scenarios.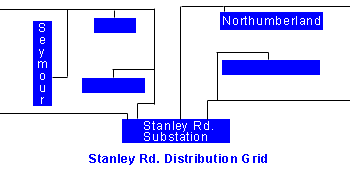 The Stanley Road substation was set up to use two distributors to serve two distinct neighborhoods. Northumberland Close is located 350 meters from the substation and Seymour Close is located 600 meters from the substation.
Fifteen users were chosen between the two neighborhoods to participate in the pilot program. They received various data and telephone services as well as remote metering/information services.
Unfortunately, the results of the trial are unobtainable. Nortel and Nor.Web claim that the results of this trial and similar trials in the United States are being protected for competitive reasons. The only indication of the trial's success is a subjective quote from Nor.Web. The quote states that "results produced over this period have now proved conclusively that Nor.Web's technology provides a commercially viable alternative to established means of telecommunications delivery to customer premises."